Sandy Hall and Libby going for the WD. Now, she has the WRD.
Actions speak louder than words when it comes to Rick and Sandy Hall. For years they have been
dedicated to loving and caring for their ailing newfs. Below is KC that now needs his wheel chair to get around. He is always included and swims with the other dogs, he just rolls to the lake. KC passed away
fall 2011. He left in our minds and heart a desire to live and if he could get around then, shame on us for not trying.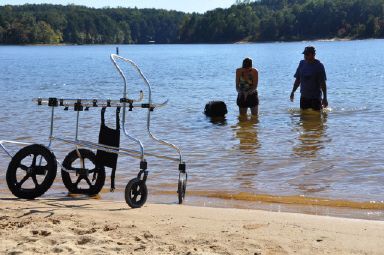 Rick and Molly training for their WD